Strategy & Deployment
Strategy is just a posh term for a 'ladder' that gets you from where you are now to where you need to be and by when.
Our programme uses the Action Chart principle: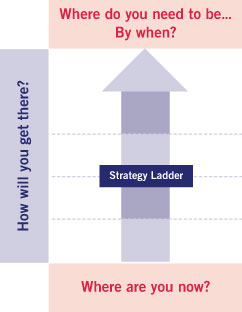 Sounds simple but as usual the devil is in the detail.
For instance the 'where are you now' box requires accurate numbers such as:-
Turnover
Profit before tax
Most profitable product/service
Most profitable customer……and much more!
The first two are easy, the last few not so.
The next box "where do you need to be" is even scarier! Why…..because you, as a business leader, has to decide which wall you are going to place your ladder against!
To help, you need to decide what you are really good at! Why are you unique and why do customers really buy from you? Then you have to put in the numbers, this is your vision or goal of what the business will look like in 2 – 3 years time!
Finally, the rungs of the ladder, what do you and your team need to do, each step to get you from where you are now to where you need to be.
Developing strategy is work but following our route maps and Applied Training makes it fulfilling and liberating. If you are interested then read on!
William Battle Limited have devoted the last 15 years utilising £4.6m of R&D funding to create the People for Profit & Planet [P4PP]® Accredited Applied Learning programme to help build Sustainable Enterprises.
To build a thriving enterprise requires two critical skills:-
Managing by the Numbers
Managing by Objectives
The first two units of the P4PP programme below, accredited at Level 4 [Level 7 under development], transforms the Operational Practice and Strategic Direction of our client's companies.
Unit 1 Business Goals & Deployment
Unit 2 Performance Management Metrics
These bespoke Applied Learning programmes, often delivered together for best results, have transformed both productivity and profitability for our clients and have created the platform for business growth.
Most of all they build confident and competent Managers, who act as a team, live the values of the enterprise, tell it like it is and deliver outstanding results.
Melin Tregwynt
Woollen Mill
Iconic world wide brand
"We have used the P4PP programme and have seen productivity increase by 50% and profitability by 40%. Our business has changed out of all recognition and we are confident in our growth plans for both the UK and Export markets".
Eifion & Amanda Griffiths – Joint Managing Directors
Princes Gate Cool Water
"We have used the P4PP programme to unify the culture of our business following a major acquisition. Peter and his team were recommended to us as the 'least worst option' and we have never regretted the work that had to be put in to transform the way we operate. In 2011we won the Wales Leadership & Management Award for our work on the P4PP programme and we have recently acquired another company and used our experience to incorporate them into our Operations Management regime"
Glyn Jones – Managing Director